Councillor Judith Diment's work in eradicating polio with Rotary International's Polio Eradication Advocacy Task Force has been recognised by Parliament.
Cllr Judith Diment (Con, Riverside) has worked with Rotary organisations to eradicate the disease for more than 20 years and she currently oversees Rotary International's Polio Eradication Advocacy Task Force. Judith joined Rotary Club of Windsor St George in 2004, serving as president for 2007-8 and district governor of Rotary in the Thames Valley for 2012-13, before moving to Maidenhead Thames Rotary in 2016.
She has lobbied prime ministers and ministers in the Foreign Office and the Department for International Development, and also members of the European Parliament and EU commissioners for two decades.
Her work with the organisation has had worldwide impact, and as a result, polio has almost been completely eliminated.
She comments on how the work has impacted people's lives on a global scale, "When we started in 1985 there were 350,000 cases of polio a year in 125 countries. This year there have been 11 cases of polio – three in Pakistan and eight in Afghanistan."
"Nigeria is also an endemic country but has had no cases since August 2016."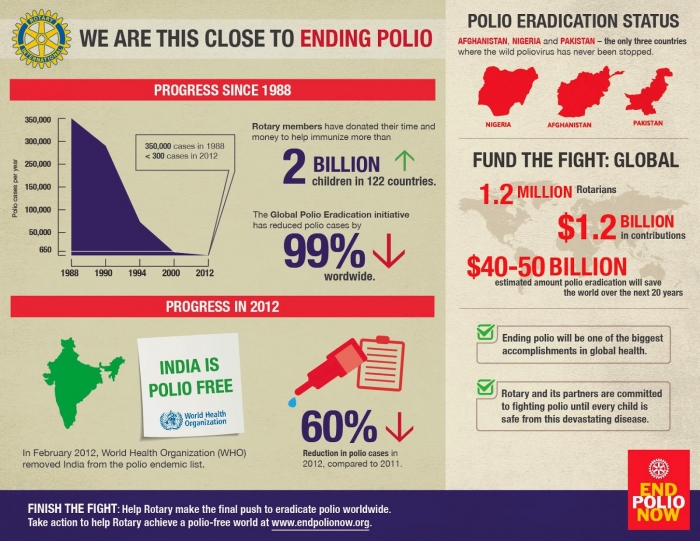 Rotary International's Polio Eradication Advocacy is one of many similar intitiaves, such as the World Health Organisation, Unicef, the US Centre for Disease Control and the Bill and Melinda Gates Foundation. The combined efforts of all have helped to eradicate such diseases and they continue to strive to do better.
The polio task force has raised more than $9billion from governments. The US is its largest donor, followed by the UK Government.
Last month, the Middle East and international development minister Alistair Burt, who is also a Rotarian, spoke of her in Parliament,"I recently met Judith Diment, who is chair of the polio advocacy taskforce.
"Rotary has done remarkable work on that issue, and we pay tribute to everything it has done over the years."
Cllr Diment was delighted the minister recognised the work to eradicate polio and said it helped counter myths about vaccination.
"It is wonderful that the work of Rotary was recognised in Parliament, especially as the UK Government is so supportive and is a great advocate for the programme," she said.
"The support has always been cross party. It is also important because vaccinating children is critical to universal health coverage and we must combat the fake news on vaccinations and the movement preventing children being vaccinated."
The selfless work of people like Cllr Judith Diment is helping to change people's lives on a global scale and we have the upmost respect for the efforts that she is put in, and for us at Lantern, we are equally proud that she is working from right here in Maidenhead.